Many of us take it for granted that building great teams means building great relationships. Scanning the literature on teamwork, you'll easily find large volumes of advice about managing conflict, improving interpersonal relationships, and communication. Indeed, there's good evidence to show that poor relationships damage team performance and create barriers to important outcomes like innovation and productivity. But for most teams, is that really the burning issue? How many teams develop a wonderfully collegiate atmosphere with little conflict and excellent communication and still underperform? What are those teams missing?
Sirota has surveyed more than five million employees over the last five years from all over the world, and we regularly ask employees about the relationships they have with colleagues and how they work together to get things done.
A quick review of the data we collect is revealing. To start, nine out of ten people tell us that they genuinely enjoy working with their colleagues, and when we ask people what they like most about their workplace "the people around me" is the most frequent answer. In the vast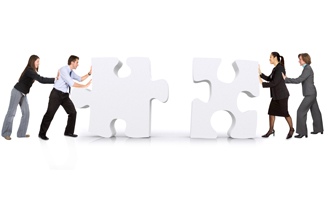 majority of cases team members form positive relationships at work and we see that that's remarkably consistent across organizations.
But high performing teams require more than good relationships. They require groups of people to work together to deliver exceptional results. When we move past relationships and ask about actually getting the work done, we see that one in five employees feel teamwork could be improved and in some companies we see this number being as high as one in three people.
Why might that be? We looked at our data and identified three common challenges that leaders and managers need to consider:
First up, teams are not challenging the status quo. Our data tells us that one in four employees do not think that their team is open to new ideas and improvements, while more than one in four feel that their team doesn't openly confront and solve problems. Improving performance isn't a one-off event. If continuous improvement isn't part of the organizational rhythm, then it's natural for people to want to maintain the status quo.
Second, there's a lack of clarity and accountability. Close to one in three people feel that accountability needs to be strengthened. A similar number feel there is lack of clarity about who is doing what. Even when they have great relationships, people often feel nervous about challenging each other and holding others accountable. It seems that it's common for employees to like their colleagues but to feel disappointed with their work.
Third, there are poor connections with other teams. More than one in three say that different parts of their organization do not cooperate with each other in the interest of high performance. Global teams are increasingly dispersed, and, in our analyses, we frequently find this leads to frustrations with the speed of decision making and efficiency.
So what can leaders and managers do to enhance team performance? Consider these ideas:
A. Embed continuous improvement as part of the team and organizational rhythm by ensuring that it's regularly discussed in team meetings. Engage and involve employees in a consistent dialogue about their ideas for improvement while being careful not to overload the team with competing priorities.
B. Establish an open set of team "norms" and commit them to writing. The goal is to make it clear that members of really high performing teams hold each other accountable for delivering what they have promised. It's not just the leader's job; accountability should become part of what employees expect of themselves and from each other.
C. Identify the critical cross-organizational touch points and ensure that there is clarity about who to go to for what. This is also where all those conflict management workshops can be useful. It's common for teams in an organization to have seemingly competing priorities. When that occurs, focus on establishing a shared goal with other teams to bind people together with a common objective.
A great example of this is at Lenovo, where managers do these things particularly well. Embedded in the Lenovo management practice is a concept called fu pan which literally means "replaying the chess board." Managers are trained to regularly examine their every move to identify how to improve the next time. It can entail short reviews of an incident from that workday or a far more in-depth process depending on the situation. These concepts cause teams to continually reflect on what they had promised to do (accountability), how they delivered, and what they can do better next time (continuous improvement). The process always involves colleagues and peers to ensure that connections are kept open.
Having strong and productive relationships with those around you is a core human need. In fact, it's been identified as one of the critical needs that people bring to work (see The Enthusiastic Employee for more on this). Managing conflict and relationships is certainly a critical success factor for performance but what we find is that it's one of the least common concerns that teams have. So next time you're considering a team building event (white water rafting or whatever it is), consider if it's the relationships that need work, or something deeper.
This blog first appeared on Organisations Solutions website.
View our complete listing of Talent Management blogs.